Chronic Inflammatory Demyelinating Polyneuropathy (CIDP)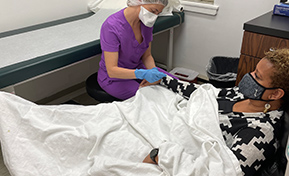 Chronic Inflammatory Demyelinating Polyneuropathy (CIDP) is an acquired immune-mediated inflammatory disorder of the peripheral nervous system. The disorder is sometimes called chronic relapsing polyneuropathy. CIDP is related to Guillain-Barré syndrome and is sometimes considered the chronic counterpart of that acute disease. The pathologic hallmark of the disease is the loss of the myelin sheath (the fatty covering that protects nerve fibers) of the peripheral nerves.
Chronic inflammatory demyelinating polyneuropathy presents with numerous symptoms including skin numbness, tingling, pain, progressive muscle weakness, loss of deep tendon reflexes (areflexia), fatigue, and abnormal sensations. The likelihood of progression of the disease is high.
Many specialists believe that, as a result of the lack of awareness of CIDP, this disease is under-recognized and under-treated, which is very unfortunate, as early diagnosis and treatment are important in preventing irreversible axonal loss and improving functional recovery.
Chronic Inflammatory Demyelinating Polyneuropathy (CIDP) Infusions in Philadelphia, PA
Dr. Katz' practice is fully equipped with the necessary electrodiagnostic apparatus, which allows her to accurately and early diagnose this condition. She also provides treatment for CIDP in her Infusion Center according to her proprietary clinical protocols.
---
Request Your Appointment Today!
To request your appointment, please call (215) 234-1095 or contact us online today!
---
Our Location
Neurology & Headache Center
822 Pine Street, Suite 1C
Philadelphia, PA 19107
Phone: (215) 234-1095
Get Directions
CIDP doctor serving patients in Philadelphia, PA and the surrounding communities.